Scheels
Address:
4450 Destination Drive, The Colony, TX 75056

Mon - 9:30am - 9:00pm
Tues - 9:30am - 9:00pm
Wed - 9:30am - 9:00pm
Thurs - 9:30am - 9:00pm
Fri - 9:30am - 9:00pm
Sat - 9:30am - 9:00pm
Sun - 11:00am - 7:00pm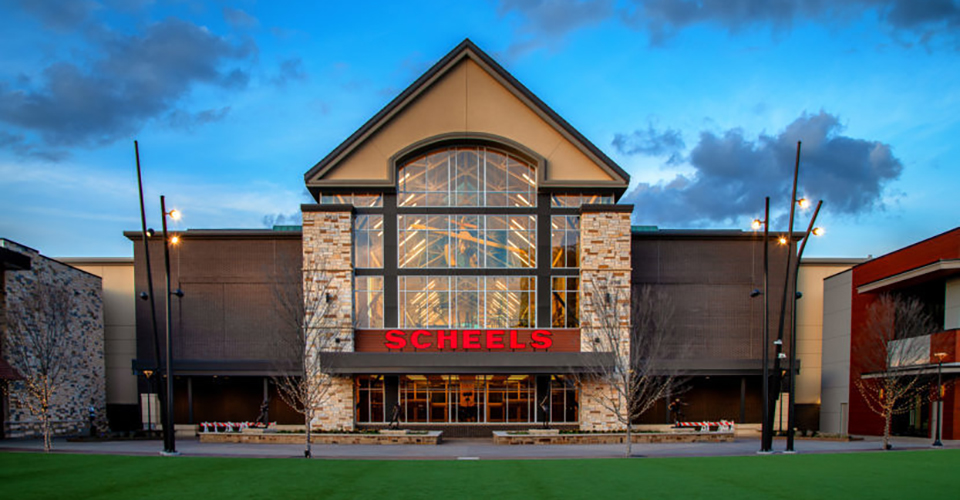 Welcome to the world's largest all sports store.
The Colony SCHEELS offers 85 specialty shops ranging from technical athletic gear to the latest fashions for women, men and children, all featuring the top name brands under one roof. Family-friendly attractions include a 65-foot, 16-car operating Ferris Wheel, a 16,000-gallon saltwater aquarium with more than 600 fish, and a wildlife mountain. Try out interactive arcade games and sports simulators, or taste specialty treats, gourmet soups and sandwiches, homemade fudge and nuts and more at Ginna's Café.
SCHEELS is dedicated to being the best retailer in the world, so don't miss out on this one-of-a-kind experience.