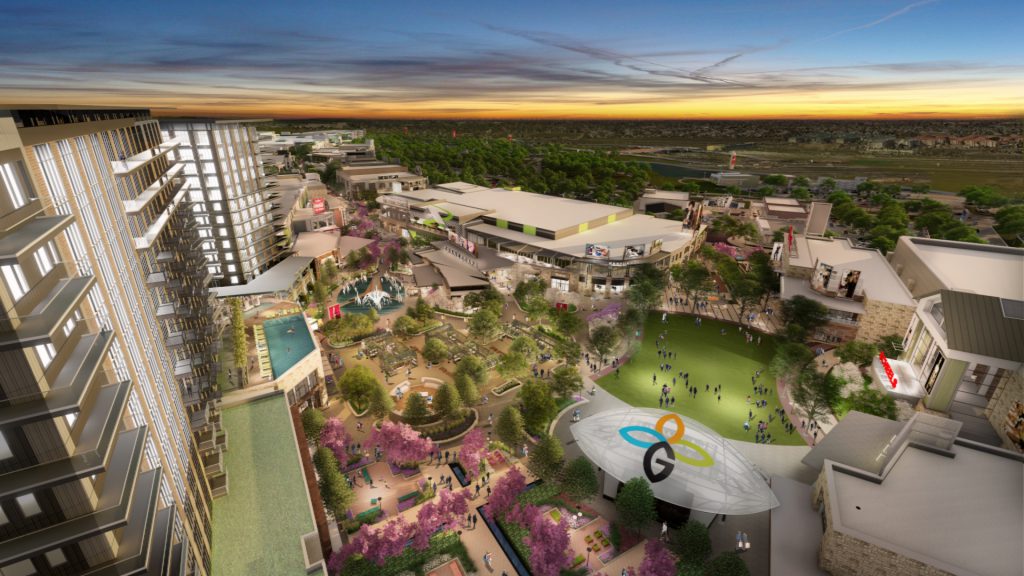 By: Candace Carlisle , Dallas Business Journal
Grandscape — the Warren Buffett-backed $1.5 billion, 433-acre mixed-use development in The Colony — will get a new centerpiece to the Nebraska Furniture Mart-anchored project: A 100-acre lifestyle center.
The lifestyle center, which is about the size of Toyota North America's new corporate campus at Plano's Legacy West, will bring roughly 1.5 million square feet of residential office and a number of attractions to this part of The Colony, Jeff Lind, president of Grandscape, told the Dallas Business Journal.
"With Grandscape, we want to create a place that will feel like no other with a pleasing environment through our leasing and tenant mix," Lind told me. "We also want to give visitors a technological experience like they are sitting at home on a website.
"We want to bring in first in the state venues and stay true to the differentiated tenant mix," he added. "We are not approaching this like a typical developer. We have extremely patient capital and nothing has changed from our original vision."
Grandscape and Nebraska Furniture Mart is owned by Buffett's Berkshire Hathaway (NYSE: BRK.A and BRK.B).
The exact footprint of the lifestyle center has yet to be determined because Grandscape developers have grand plans to build "very large-scale entertainment venues," and some of the deals haven't been completed yet, Lind said.
In all, the center could total 1.5 million square feet including a luxury high-rise apartment tower (10- to 12-stories), office space on the second or third floor atop ground-floor retail space and plenty of retail space with entertainment venues.
Construction on the center began Tuesday with an official groundbreaking ceremony. Some of those new lifestyle center tenants include:
Previously announced anchors, North Dakota-based Scheels All Sports and Galaxy Theatres Two new restaurants: Thirsty Lion Gastropub and Twigs Bistro & Martini Bar Portland-based Thirsty Lion is expected to open next fall. This will be its second location with its first opening at Irving Music Factory.
Twigs Bistro, a family-owned concept from Spokane, Washington, is slated to open the following year in 2019.